Improve at Cycling
Boost Your Cycling Skills, with Subliminal Messages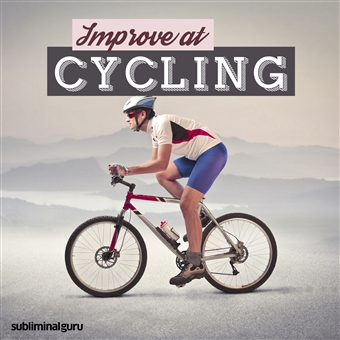 MP3 includes relaxing audio
Would you like to be a superior cyclist? Want an effective way to achieve it from the inside out?
To be a spectacular cyclist, you need energy, stamina, and determination. You need the motivation to keep going, even when it hurts, driving yourself forward with all the power and vigor you can muster.
Get On Your Bike
With the Improve at Cycling subliminal session, you'll tap into the latent sporting genius within!
As you listen, thousands of potent positive affirmations will rewire your mind, helping unleash your natural cycling ability.
You'll develop greater endurance, able to push yourself to go faster and further. You'll become one with your bike, using every practice session to fine tune your technique and give you the chance to achieve greatness.
Simply download the Improve at Cycling subliminal session, put on your headphones, and listen to learn how to:
Become a cycling superstar!
Feel confident and full of energy
Win races with ease
Download the Improve at Cycling subliminal audio now to become the savvy and successful cyclist you always wanted to be.
Affirmations inside this album:
I enjoy training to be a great cyclist.
Cycling is fun and exciting.
I constantly achieve new cycling plateaus.
Cycling energizes and delights me.
My cycling performance improves every day.
Cycling keeps me fit and healthy.
My cycling technique is excellent.
Cycling helps me get plenty of fresh air.
I enjoy the challenges cycling brings.
I respect other road users while cycling.
I always cycle with safety in mind.
I am committed to being the best cyclist I can be.