Be More Grateful
Appreciate What You've Got, with Subliminal Messages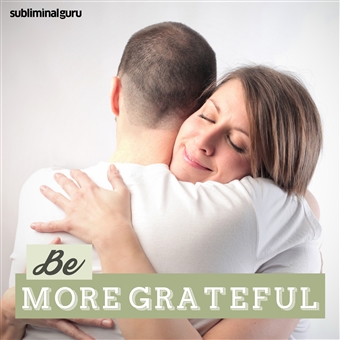 MP3 includes relaxing audio
Would you like to be happier with your lot in life? Need a way to re-evaluate it from within?
The world can be a have or have-not place, where we often measure success by what's missing. But if you were to write down everything you have, you'd probably be surprised at how extensive the list was in front of you.
Thank Your Lucky Stars
With the Be More Grateful subliminal session, you'll acknowledge just how amazing your life really is!
As you listen, thousands of powerful positive affirmations will change your thinking, helping you stop taking things for granted.
You'll start to focus on the good things all around you, making the most of what you've got. You'll become more appreciative of your life in general, knowing that you've been blessed in so many wonderful ways.
Simply download the Be More Grateful subliminal session, put on your headphones, and listen, to learn how to:
Count your blessings!
Feel fulfilled and contented
Enjoy everything your life has to offer
Download the Attitude of Gratitude subliminal audio now to live a more satisfying and gratifying life.
Affirmations inside this album:
I am grateful for all the good things in my life.
I give thanks for my wonderful friends and family.
I appreciate my job and the life it lets me lead.
I'm glad to be alive.
I count my blessings every day.
I live my life as a gift.
I say thank you throughout the day.
I take time to appreciate the simple things in life.
My gratitude is sincere and constant.
I have a lot to be thankful for.
Every day I nurture the habit of being grateful.
I appreciate my life and everyone in it.