Write a Bestselling Book
Become a Writing Success, with Subliminal Messages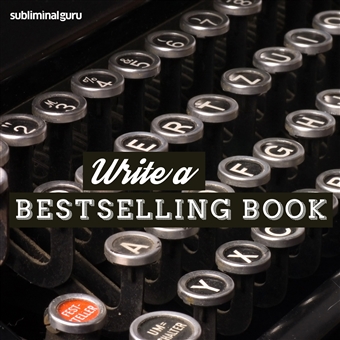 MP3 includes relaxing audio
Would you like to write the next big hit? Want an effective way to achieve it from the inside out?
Writing takes dedication, time, creativity, and perseverance. You have to know what your audience wants, and then deliver it. You need to write clearly and succinctly, keeping them turning the pages and always wanting more.
Top the Book Charts
With the Write a Bestselling Book subliminal session, you'll find the motivation to become incredibly productive!
As you listen, thousands of powerful positive affirmations will channel your thoughts, helping to fire up your imagination.
You'll be able to let the words flow from your fingertips, instinctively knowing exactly what to write at each step of the way. You'll keep your readers in mind at all times, helping make their adventure as interesting and enjoyable as possible.
Simply download the Write a Bestselling Book subliminal session, put on your headphones, and listen, to discover how to:
Write a number one best-seller!
Sizzle with great ideas
Become prolific and popular
Download the Write a Bestselling Book subliminal audio now to unleash the award-winning writer within.
Affirmations inside this album:
I am a dedicated writer.
I make time to write every day.
My writing is focused.
People admire my writing skills.
I easily find great ideas to write about.
I know what people like to read.
My writing is creative and challenging.
Every day my writing improves.
I write with my audience in mind.
I write clearly and succinctly.
I know my books will fly off the shelves.
Writing a bestseller is easy for me.