Solve Problems Fast
Overcome Obstacles with Ease, using Subliminal Messages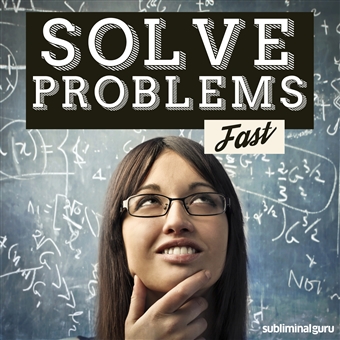 MP3 includes relaxing audio
Would you like to have superior problem-solving skills? Want a quick and easy way to triumph over any challenge?
Problems are meant to try us, to test our resolve and ingenuity. But looking at things in the same old way or sticking to the status quo won't produce a game-changer. To do that, you need to adjust your attitude.
Make Problems Simply Disappear
With the Solve Problems Fast subliminal session, you'll ignite your latent creativity and initiative!
As you listen, thousands of powerful positive affirmations will rewire your mind, helping you come up with answers and results.
You'll start to examine problems in different ways, approaching challenges with an open mind and unbiased perspective. You'll turn obstacles into opportunities, using all your brain power to think outside the box and find solutions.
Simply download the Solve Problems Fast subliminal session, pop on your headphones, and listen, to learn how to:
Become a master problem solver!
Stay focused and open-minded
Explore every angle until you succeed
Download the Solve Problems Fast subliminal audio now to lift your problem-solving ability to a whole new level.
Affirmations inside this album:
Problem solving is easy for me.
I can think outside the box.
I always find a solution.
My problem solving skills are improving every day.
Challenges excite and motivate me.
I am an excellent problem-solver.
I easily overcome obstacles.
I stay focused until solutions are found.
I approach problems with an open mind.
People admire my problem-solving skills.
I love looking at problems from different angles.
I'm a superior problem-solver.