Stop Feeling Sorry for Yourself
Eliminate Self Pity, with Subliminal Messages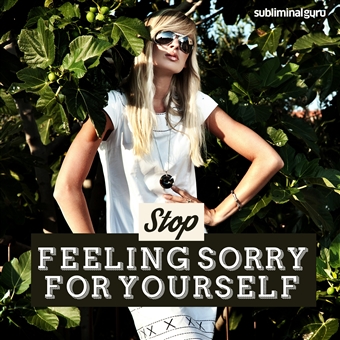 MP3 includes relaxing audio
Are you tired of feeling sorry for yourself? Want a quick and easy way to raise your self-esteem?
Sometimes it hurts to be human, and it's natural to feel a certain amount of self-pity. But the more wrapped up you become, the harder it is to see opportunities as they arise, and the more difficult you'll find it to move on.
Find Your Inner Strength
With the Stop Feeling Sorry for Yourself subliminal session, you'll discover hidden reserves of power and self-reliance!
As you listen, thousands of potent positive affirmations will work to change your thinking, helping you realize your own potential.
You'll start to open your heart and mind, knowing you have enough of everything you need to overcome negative feelings. You'll give yourself a break, trusting in the choices you make and becoming more self-confident.
Simply download the Stop Feeling Sorry for Yourself subliminal session, pop on your headphones, and listen, to learn how to:
Quit feeling sorry for yourself!
Become more independent and resilient
Feel happier and more alive
Download the Stop Feeling Sorry for Yourself subliminal audio now to experience a brighter and more joyful future.
Affirmations inside this album:
I can easily rise above self pity.
I have a lot going for me.
I am a strong and confident person.
I take responsibility for my actions.
I take setbacks in my stride.
I focus on the positive things in my life.
I know I add value to the world.
I am able to deal with disappointment.
I stay focused on what I can achieve.
Every day I feel stronger and more capable.
I maintain a healthy and positive attitude.
I free myself from feelings of self pity.