Younger Looking You Subliminal Bundle
Roll Back the Years, with Subliminal Messages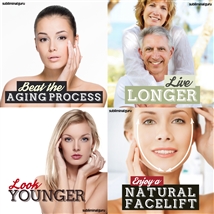 MP3 includes relaxing audio
Discover how to get back the glow and radiance of your youth. The four age-defying sessions in the Younger Looking You Subliminal Messages Bundle are designed to keep you feeling and looking your youthful best.
Adopt a youthful attitude that influences everything you do, helping you to take better care of yourself, stay active, and lead a more exciting and fulfilling life.
Stop aging in its tracks!
Feel and look younger
Live life to the max
Increase your resilience to life's little aches and pains by giving your immune system a powerful boost from the inside out.
Stay fit as a fiddle well into old age!
Live life to the limit
Feel and look great for years to come
Radiate total health and vitality as your youthful optimism fills your body and mind with endless energy and power.
Recover your youthful complexion!
Stay in great shape at any age
Feel attractive, young and vibrant
Give your skin the care and nourishment it needs to be reinvigorated, helping you regain your smooth and supple complexion.
Reverse the aging process!
Look and feel better than ever
Enjoy a healthier and happier lifestyle
Download the Younger Looking You Subliminal Messages Bundle now to recapture the spirit and looks of younger days.